Meeting location
The workshop will be held at Ecole Normale Supérieure de Lyon, in the south of the city.
ENS de Lyon - Monod site - 46, allee d'Italie - Lyon (click here for a map of the campus)
The conference room is located at 1 place de l'Ecole close to the main entrance to ENS.
Poster sessions will be held at Centre Blaise Pascal located in the "M6" building on the ENS campus.
Lunches will be served at the restaurant of the Descartes site (see map below).
Access by metro or tramway
ENS Lyon is located close to the "Debourg" stop on the Metro line B and to the "ENS Lyon" stop on the Tram line T1.
There are quick and direct Metro and Tramway connections with Lyon city center (15 min) and the main railway station (15 min) : see TCL website for transit maps and schedules.
To reach the conference site from Lyon Part-Dieu main railway station, which is also the terminal of the airport shuttle "Rhone Express":
- take Metro B (direction "Gare d'Oullins") and get off at the "Debourg" stop
- then walk to 1 place de l'Ecole (conference room) or to Centre Blaise Pascal (poster sessions)
Here is a general map of the various conference locations as well as Métro/tram stops (see also pictures below):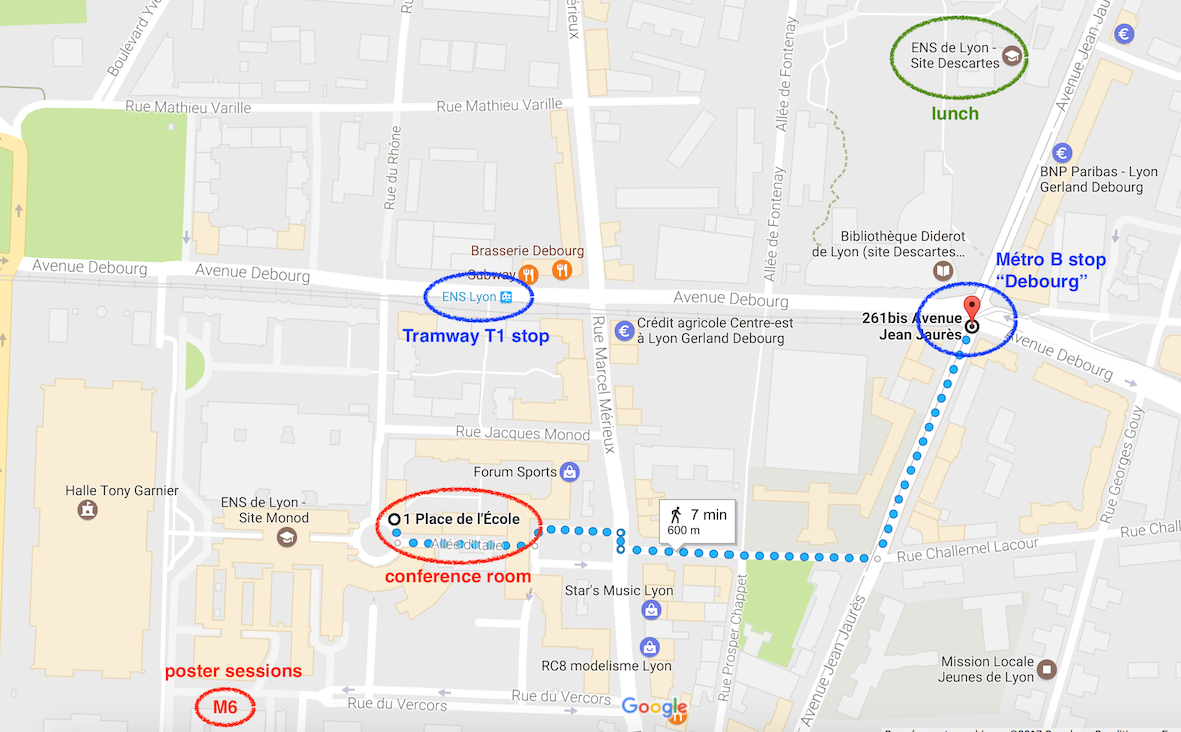 Conference dinner
The conference dinner will take place at 8pm on thursday at the restaurant "La Gargotte".
"La Gargotte" is located in the historic city center at 15 rue Royale.
It is close to the "Hotel de Ville Louis Pradel" stop on the Métro A line (8 min walk, see map below).

To get there from ENS, take the Tramway T1 at "ENS Lyon" (direction IUT Feyssine) to "Perrache" and change there for Métro A (direction Vaux-en-Velin La Soie) and get off at "Hotel de Ville Louis Pradel".

To get there from the Séjour & Affaires and Appart'City hotels in Gerland, take the Métro B at "Place Jean Jaurès" (direction Charpennes) andchange at "Charpennes" for Métro A (direction Perrache) and get off at "Hotel de Ville Louis Pradel".
In both cases, allow about 35 minutes to get to the restaurant.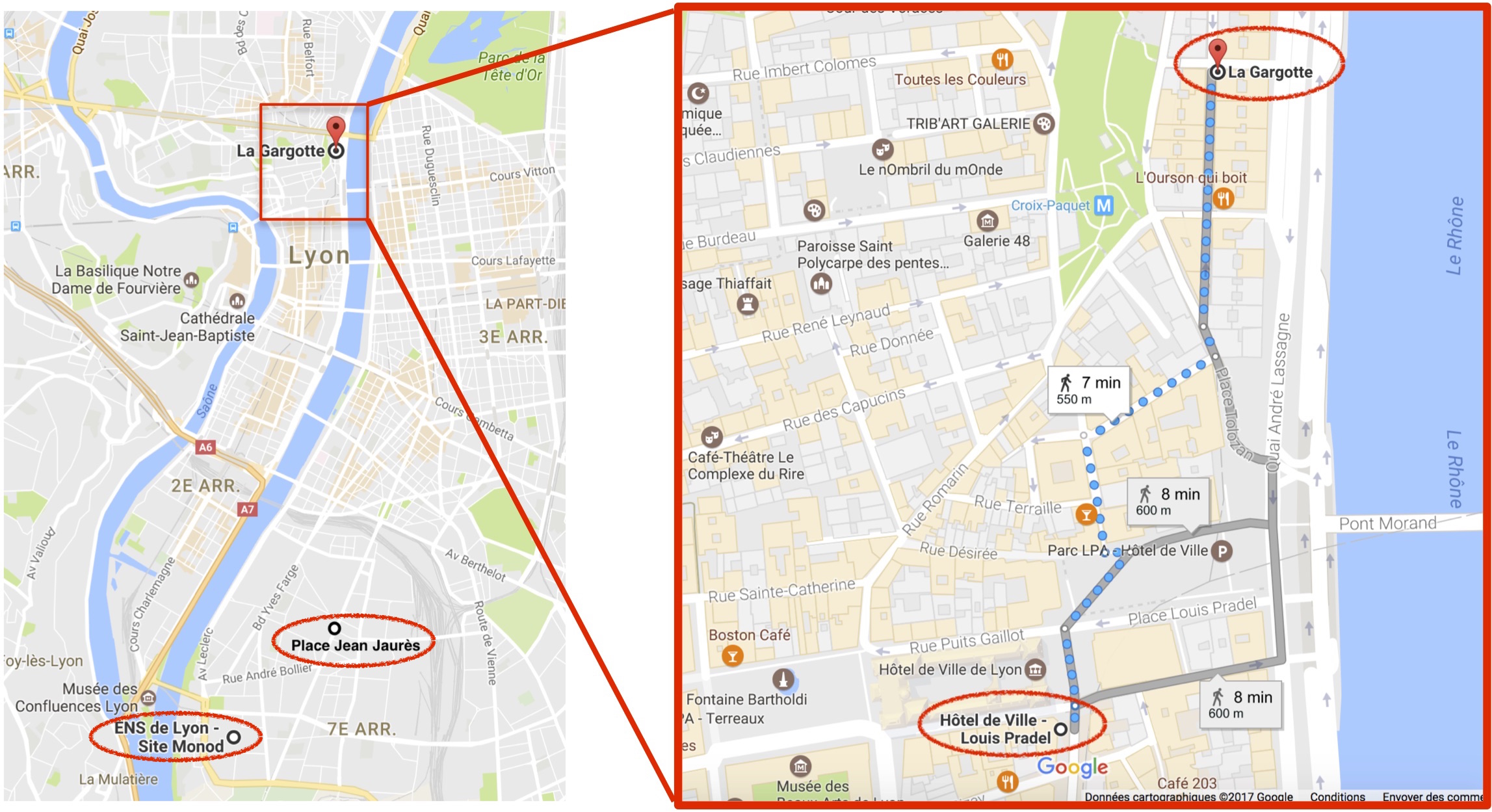 Travel
The Lyon Part-Dieu railway station is located in the center of Lyon, well connected to the Lyon Saint Exupery (LYS) airport.
There are more than 10 trains every day connecting Lyon and Paris.
There are also frequent train connections between Lyon and Geneva main station.
Hotels
Séjour & Affaires Gerland
Séjour & Affaires Saxe Gambetta
Appart'city Lyon Gerland
Bed in City Gerland
Hôtel Ibis Gerland Mérieux
Hôtel Ibis Gerland Pasteur
Novotel Gerland
Hôtel des Facultés
Picture gallery
Oral sessions will be held in the conference room at "1 place de l'Ecole":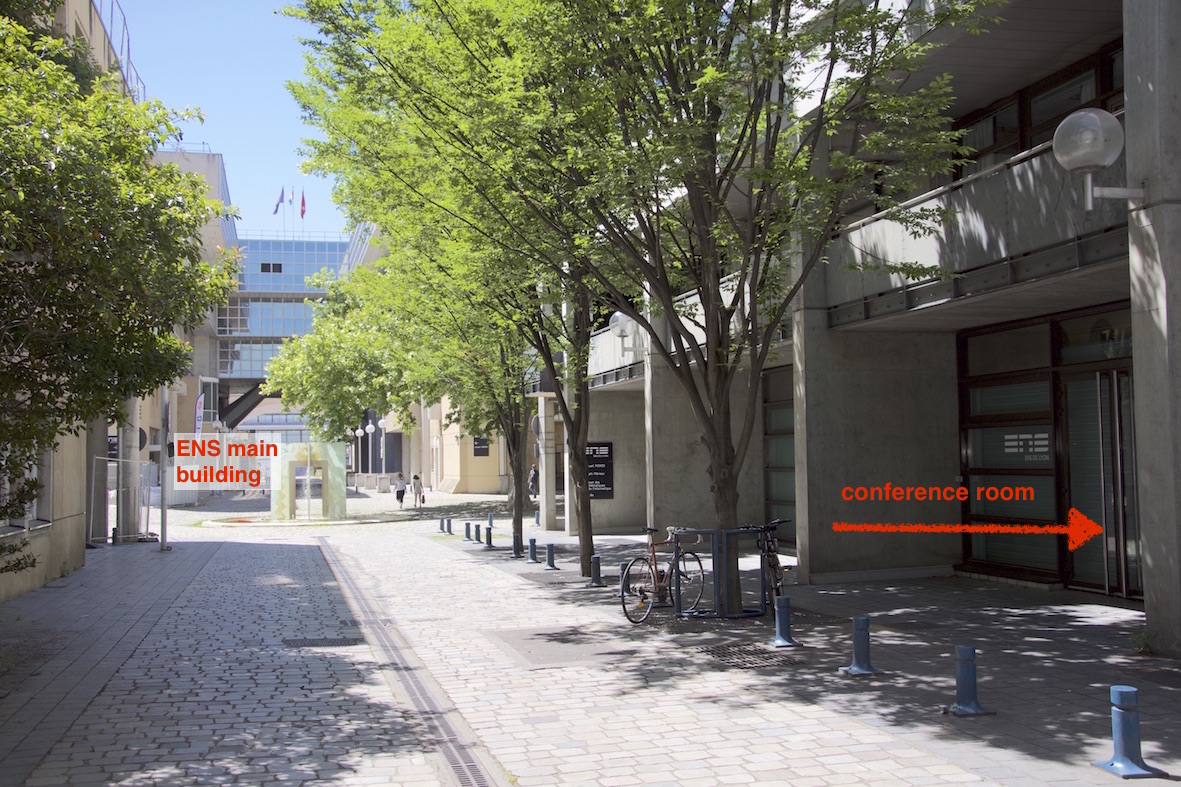 The fountain on "Place de l'Ecole" just next to the conference room: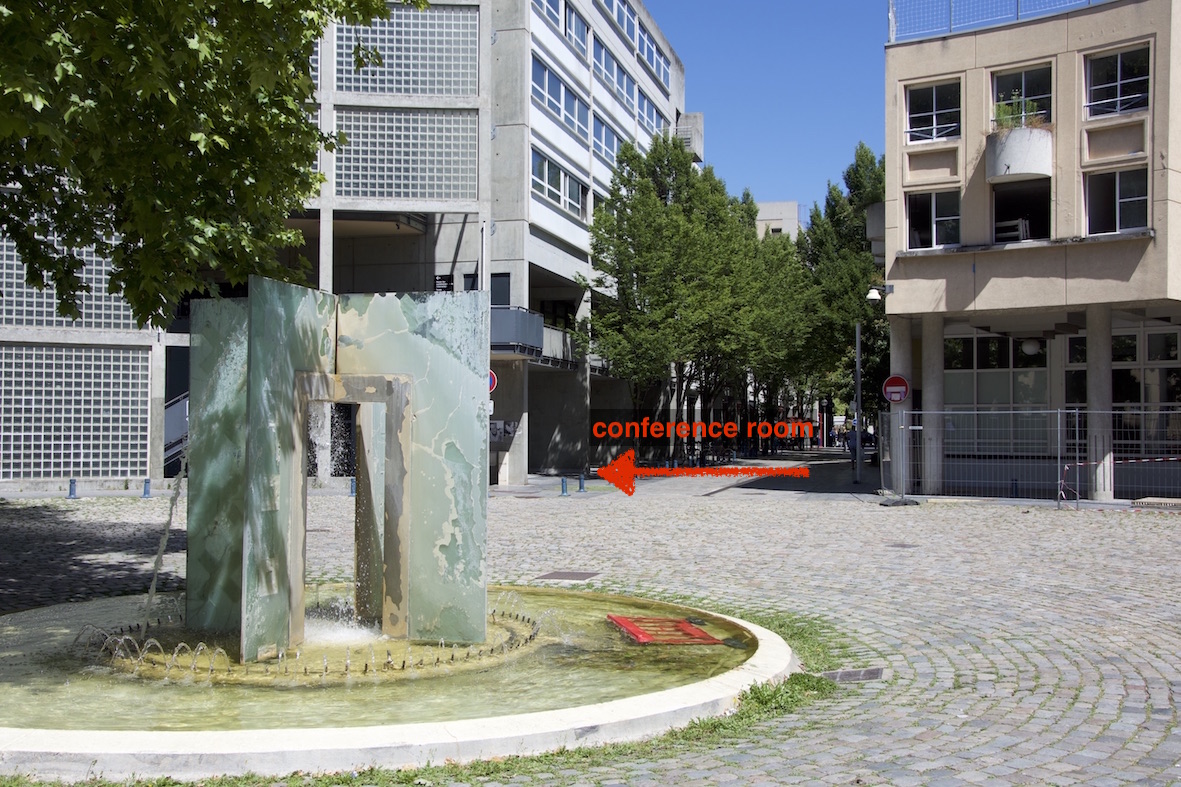 Poster sessions will be held in the hall of Centre Blaise Pascal ("M6" building):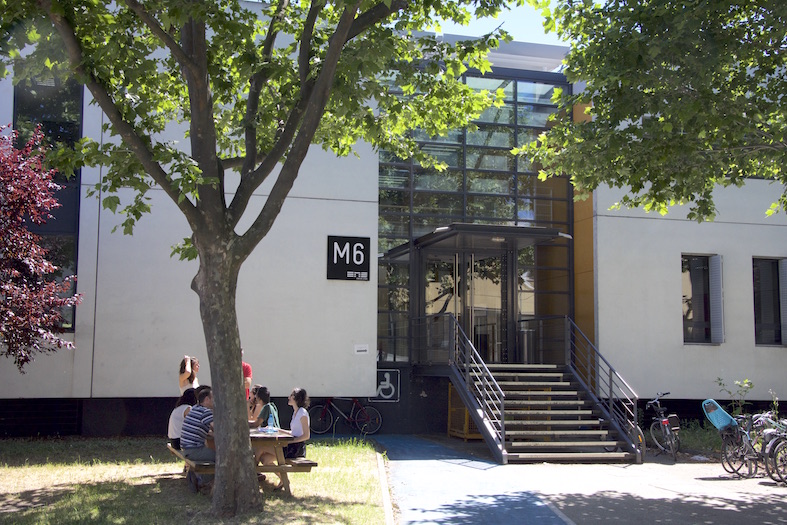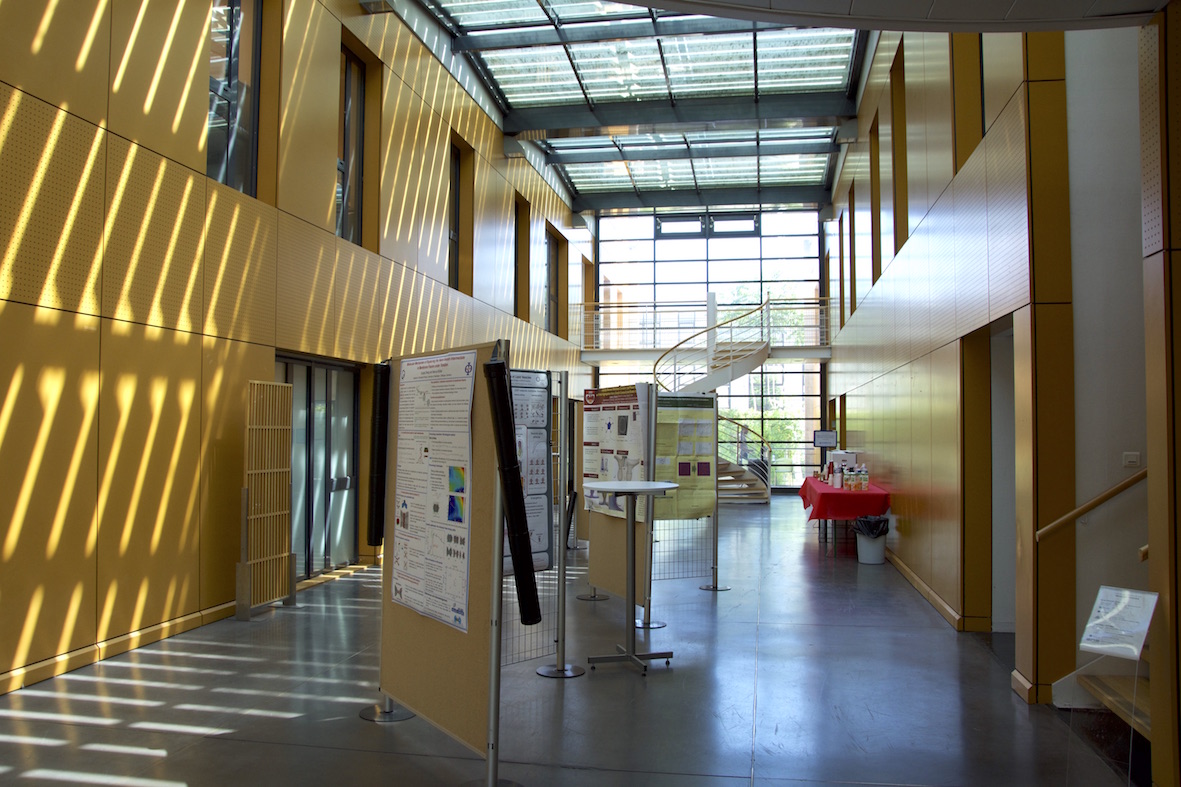 From the conference room to the poster sessions: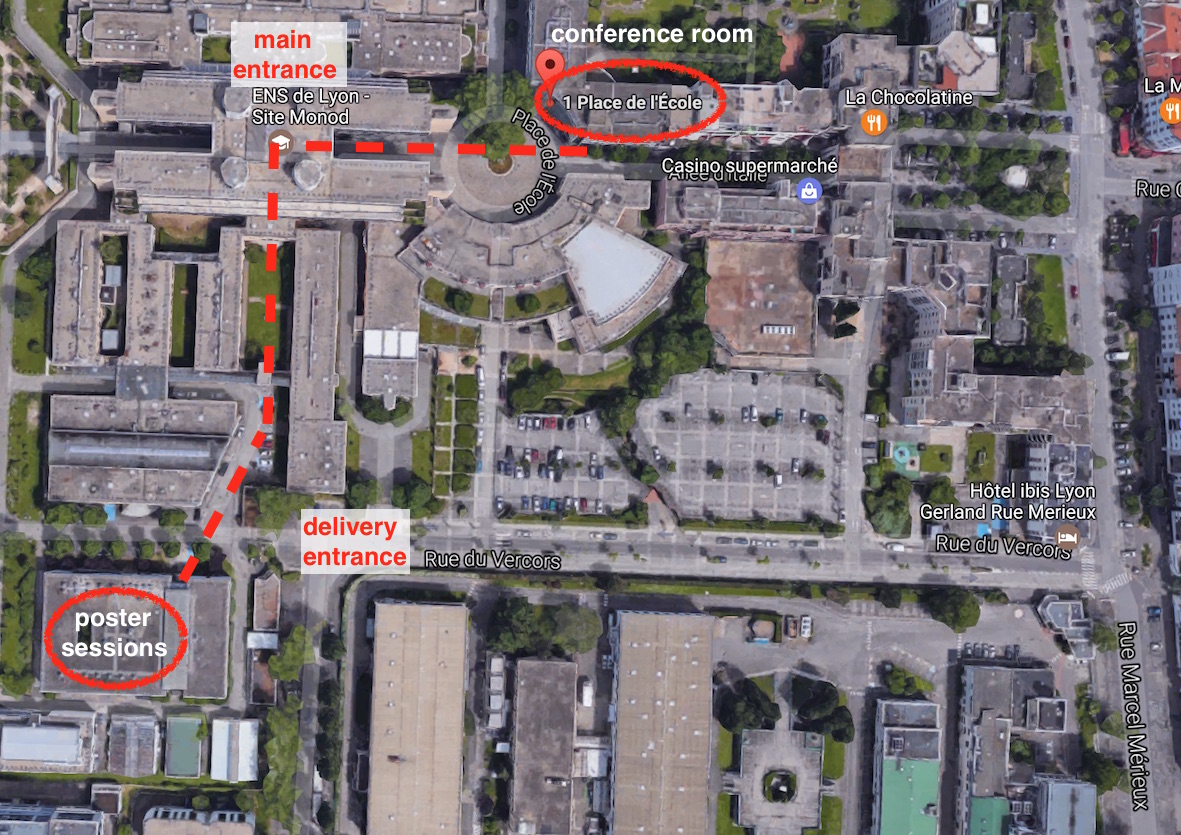 Our conference dinner takes place at "La Gargotte":